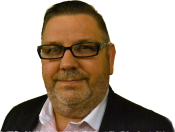 Hi, I'm Ken Nix. Just like you, I'm a local Portland area business owner who has a local market in Beaverton, Portland and Hillsboro, Oregon. I understand the difference between focusing on local clientele in the Portland, Oregon area, and being overwhelmed with phone calls from outside of our area that seldom lead to conversions. But, we still need to compete with other businesses that rank nationally. It's all about the conversion, not just ranking. That's why I started Clik Local in 2009, I found that there were other business owners like myself who needed a low cost simple solution to obtaining clientele through the local internet. My background is very diverse. from face to face Sales, to B2B and B2C Internet marketing. There's only one place you really need to target, Google. You need to dominate Google, and not worry yourself with other search engines. Mobile viewers has now overcome desktop viewership. Old school SEO strategies will now kill your site ranking, but you still need a way to be seen over your competition. Google Maps, Pay-per Click (PPC), and Local Search Engine Optimization (LSEO),are just a few of the ways we can generate steady customers/clients for your business. Wouldn't it be nice to pay one low price for someone to take care of everything about your online presence? From Photography, to Video to Web Design? That's the service we provide.
Google Places: Over 60% of searchers who find a business on Google Places will actually convert to a paying offline customer. We're really big on Google here at Clik Local, we believe in in the 80/20 rule. Since 80% of traffic normally comes to your site through a GOOGLE owned or partner vehicle, 20% will come from other search engines and media. We want to concentrate our efforts mainly on Google and YouTube (which is owned by Google). Whether it is Google Places/Maps optimization, or creating an optimized Google Adwords Pay per Click campaign, we're confident we can give you a huge return on your investment.
Local Search strategies for small businesses looking for affordable internet advertising is what we do. We concentrate on your primary market area. This strategy has the highest return on investment hands down. Showing up in multiple places in Google has shown it's value to the local small business community in that it allows you to play with the big dogs and still stay on the porch. In other words, you can have huge rewards, like placing at the top of Google with less monetary risk and/or investment.
One of our clients, Lovejoy Opticians, is situated on the 5th floor of an office building. For the last few years they had a major franchise Optical office across the street at street level. When we first started working with them about 5 years ago, they were having major problems due to their physical location disadvantage. Within a year, they had broken their all times sales record, and each year since they have consistently broke those sales records. Last year, the Optical business across the street on ground level who had a huge advantage, stopped selling eye wear. We feel it was a direct result from our marketing as our client has received an average of 800 requests for directions through Google Maps to their business, monthly, for the past 4 years.
If you are interested in a quote for Local Search Marketing, please contact us at: sales@cliklocal.com or call us at: (503) 56789-00 (503-567-8900)
Packages starting as low as $150 per month.